Psychology professor spreads message of Internet safety through teen peer education program
September 11, 2020 : By Ryan Klinker – Office of Communications & Public Engagement
Since 2016, Liberty University psychology professor Dr. Janet M. Brown has been working hard with the National White Collar Crime Center (NW3C) and the Safe Surfin Foundation to keep children safe from Internet predators, and now their specially developed program has expanded to high schools in several states.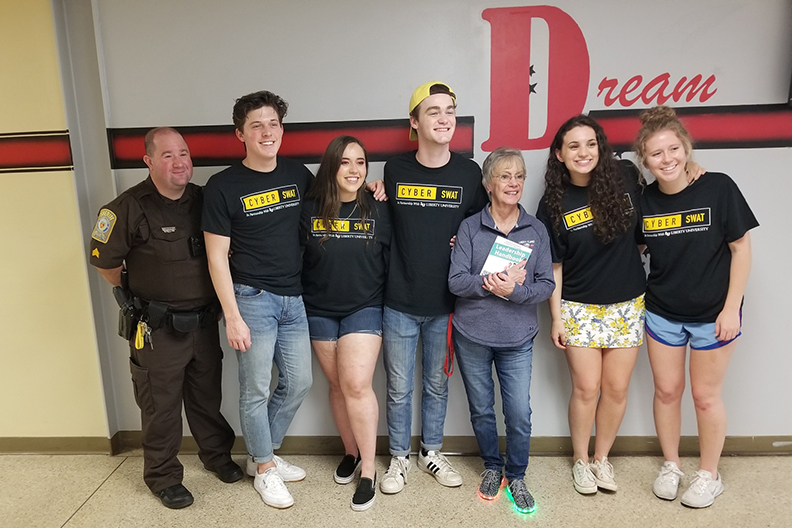 Their program is called Cyber S.W.A.T. (which stands for Safety While Accessing Technology) and it empowers groups of high school students at each school to teach proper Internet practices to their fellow classmates.
"Cyber S.W.A.T. is a paradigm shift in the way we train young people how to be safe on the Internet in that it's peer-to-peer," Brown said. "With social cognitive theory the idea in this case is that the more a young person looks up to a model, someone who is maybe two or three years older, the more they're likely to pay attention to what the (model) is saying than listening to an adult."
Cyber S.W.A.T. students work with school resource officers to learn the principles of online safety, tackling tough conversations about cyber bullying, online predators, and other online risks. The students then present projects to their peers, sharing what they've learned and telling real stories about online dangers. Cyber S.W.A.T. was first piloted at nearby Jefferson Forest High School in Bedford County in the fall of 2016, when Brown saw the program first succeed on a local level. (Read more about Brown's story in the Liberty Journal).
The program operates in partnership with NW3C and Safe Surfin' Foundation, the latter of which was founded by Brown's husband, former Bedford County Sheriff Mike Brown.
In 2018, the partnership was awarded a grant from the Department of Justice's Office of Community Oriented Policing Services to implement the program in eight high schools around the United States during the 2019-20 school year. Brown herself was granted a Release Time Award for Fall 2019 and Spring 2020 from Liberty's Center for Research & Scholarship, which allowed her to devote more time to monitoring and visiting additional schools.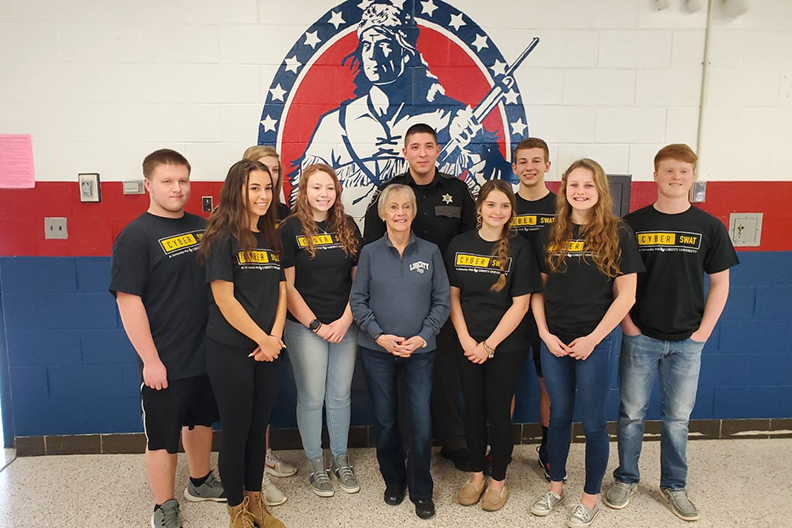 Brown was able to visit four schools in Virginia, West Virginia, and Wyoming before COVID-19 travel restrictions caused her to reschedule plans to visit four more high schools in Ohio, New York, and Illinois. But the responses she has received already point to the program's wide success, she said.
"Students were excited to be a part of the program because they wanted to do something that was meaningful, where they felt like they were making a difference," Brown said. "They liked the idea of being able to talk to classmates and younger children about safety on the Internet, and they enjoyed that process."
After compiling responses from schools and conducting analysis relating to the social cognitive theory, Brown sent a report of her findings to NW3C. President and CEO Glen B. Gainer recently responded with a letter to Liberty's President's Office lauding Brown's work.
"NW3C would like to express our appreciation to Dr. Janet Brown for her contribution to this program and to Liberty University for (its) unwavering support," Gainer wrote. "We believe that her research will be invaluable for the continuation of the Cyber S.W.A.T. program, future funding initiatives and, of paramount importance, the protection of our youth on the Internet and in the social platforms where the sexual predators lurk!"
Brown also sent a report to the National Center for Missing and Exploited Children in Washington, D.C., and is awaiting the center's feedback. She hopes that the national organization will be a part of helping implement Cyber S.W.A.T. in more U.S. schools in the near future.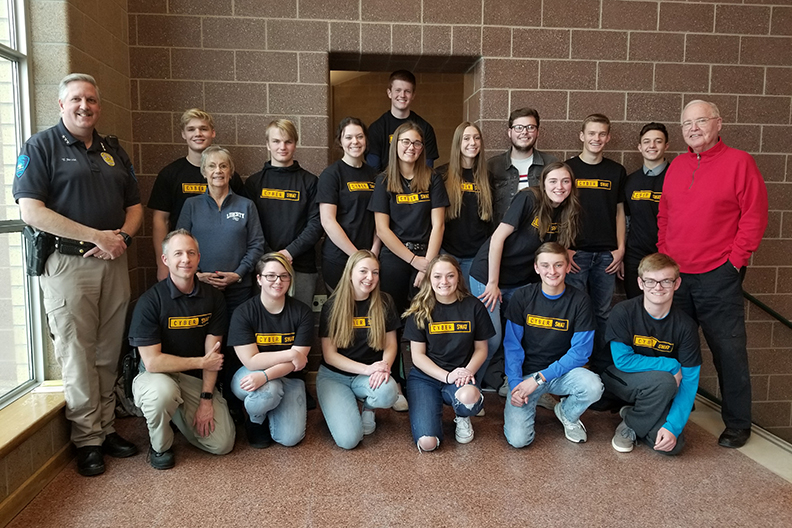 "The National Center for Missing and Exploited Children is interested in keeping children safe, not just on the Internet but everywhere else, so hopefully I'll be able to explain to them what the program has been and the responses we got, and I hope they'll become a part of it," Brown said.
In April 2019, Brown and her husband were welcomed to the Global Security Network at the Vatican to share the mission of Cyber S.W.A.T. on an international level, and she hopes that the program will expand over time to be implemented in other countries. Brown added that her presentations of Cyber S.W.A.T. at the Vatican and schools across the country have given her the opportunity to share about Liberty.
"We're excited about what we've already done, and we're looking forward to the things that we'll be able to do in the near future with the research continuing and the program spreading to other schools," Brown said. "Dr. Jerry Falwell (Liberty's founder) used to talk about his 'Big Hairy Audacious Goals (BHAGs),' and our big goal is to get Cyber S.W.A.T. into schools around the world."
Through Cyber S.W.A.T., Brown has also been in communication with those in the hearing-impaired community as well as tribal schools, through the National Native American Law Enforcement Association, to find ways to bring practices of Internet safety to these two vulnerable demographics.
Learn more